15/04/2015
4 Tools To Manage Content Curation
Content curation is the process of collecting, organizing and displaying information relevant to a particular topic or area of interest.
Source: Wikipedia
More than writing, I love reading. You know, I'm curious and can't ever get enough of learning new things. Moreover, to be effective and efficient in my job, I need to keep up with Social Media and Marketing updates, new trends and features.
As I believe in the circulation of information, I share everything I find valuable and think can be helpful to other people. I mainly curate articles about Social Media, Blogging, Content Marketing and Digital Marketing.
Here are the 4 tools I use to manage Content Curation.
---
READING
To make some order in the chaos of overabundance of posts, I use Feedly, a beautiful news reader available for browsers and mobile devices (iOS and Android).
It aggregates the RSS feeds of your choice and lets you organize them into categories. If you want, you can email articles, save them for later in Feedly or by sending them to Pocket, share them to Twitter, Facebook or Google +, (other sharing options are available in Feedly Pro).
You can also search from inside Feedly itself, it will search outside your feeds (by topic, by site name, in Google News and YouTube) or within your feeds (in this case the results are limited to three unless you upgrade to Feedly Pro).
Every time I discover a valuable new blog, I add it to Feedly, to never miss a post.
Bonus Item
Read Ian Cleary's post to learn how to use Feedly:
How to use Feedly For Tracking Blogs
---
SHARING
Buffer is my tool of choice to share my findings. It's a browser and mobile app (iOS and Android) which allows you to schedule a bunch of social media updates and to check how they're performing. You can connect Facebook Pages, Profiles and Groups, Twitter, Linkedin Profiles and Company Pages, App.net Profiles and Google+ Pages.
Currently, I'm using Buffer just for my curated content. I share different kind of articles on different platforms, 'cause I have followers interested in different topics. I often share a different piece of content from the same post depending on the platform: title, image and link on Twitter, title and link on Facebook, short introduction and link on Linkedin, short to medium introduction with formatted text and image on Google plus.
Buffer turns out useful in content discovery too. It has a "Suggestions" tab which brings to the users evergreen articles to be added to one's Buffer queue. What I love about the "Suggestions" tab is that I discovered awesome blogs and websites through it. Some of them, I added to Feedly.
Bonus Item
If you want to master Buffer, read The Ultimate Guide to BufferApp (again from RazorSocial).
---
COLLECTING
I'm a control freak and love to organize stuff. That's why I'm using Flipboard to collect the best posts I share. To make everything more rational, I create a new Flipboard magazine every week where I put articles published within the previous week. My "Digital Marketing Weekly" magazines are public, so feel free to flip through them!
In case you don't know, Flipboard is a mobile (iOS, Android and Windows Phone) and web app that aggregates articles, blogs posts and news. You can choose your favorite topics to discover new stories, follow people and magazines.
Bonus Item
Here's an insight by Harsh Agrawal on How To Use Flipboard To Get Traffic To Your Blog.
---
SAVING FOR LATER
When I find a particularly valuable piece of content, I save it in Pocket and tag it according to my needs. This way I'm sure I'll easily find it whenever I need it.
Pocket, previously known as Read It Later, is a web and mobile application (iOS and Android) which allows the user to save an article to read later. The article is then sent to the user's
Pocket list (synced to all of their devices) for offline reading. Pocket removes clutter from articles and allows the user to adjust text settings for easier reading. [Source: Pocket page on Wikipedia]
Bonus Item
From TheNextWeb, The in-depth guide to using Pocket
---
What about you? Have you ever used any of the tools I mentioned?
---
Are you into social media as much as I am?
If you can never get enough of learning how to master social media marketing,
you should attend the largest online conference for social media:
Social Media Success Summit.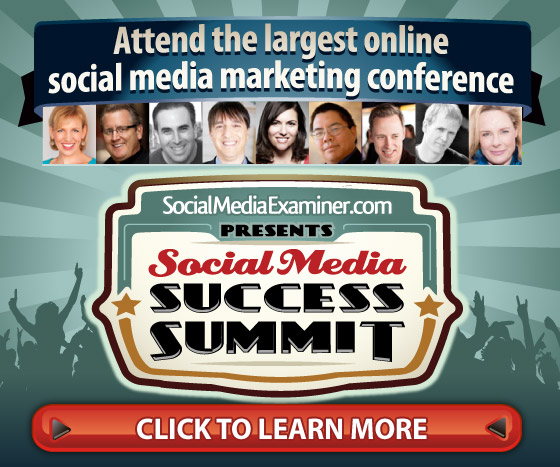 ---